When you are riding a bicycle, it's quite hard to carry a water bottle and receive your phone. Things get harder when you go on exploring the wild because, in the mountains, you will not be able to find the right way. 
But if you think smartly, you can find a solution that is bike cell cages or phone mounts. With the phone mount, you can easily carry your mobile phone and receive any call at any time at any place on your bike. Even you can find your way on map thought phone.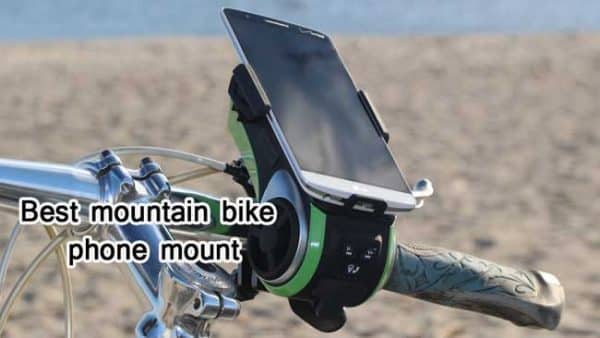 Now come to the topic of the search for the best mountain bike phone mount. When I started biking I faced the problem of operating phone while riding. The solution is MTB phone mount, but which will be the best for you. I used many types and asked other bikers about it. There are many bike cell holders and phone mounts you will find in the markets but choosing the best is not that easy. So here I am going to introduce you to some best MTB phone mounts. With some kind of water bottle mount you can carry water bottle too.
Best Mountain Bike Phone Mount
1. Roam Universal Premium Bike Phone Mount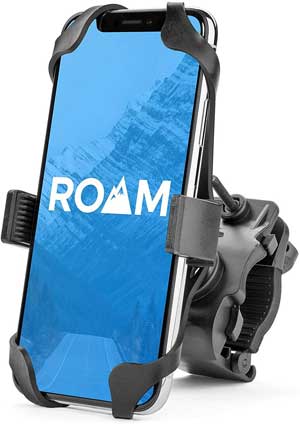 Are you looking for a device that helps the mountain bikes to give you the scope of using your phones while riding the bike? This beautiful phone holder developed by "ROAM" for mountain bikes is one of the most effective mountain bike phone holders. It has got the specialized "ROMA Co-Pilot Mounts" integrated within the tool.
This device is well equipped with a bike cell cage and a strong grip for your handset. Clamps are made of premium graded hard plastic.
The device has got good flexibility and a very effective one to get for your bike. It definitely will be a good buy for you.
Material: Hard plastic, Metal & Silicon
Availability on: S6, S7, S8, iPhone 8, iPhone X & others.
Key Features
One can take video with this mount while riding.
Clamps enable the handlebars to keep your device mounted securely.
The Mount is compatible with any kind of angle for a proper view while riding.
This can fit both larger and smaller smartphones.
It has got an easy installation process.
2. Nite Ize Wraptor, Rotating Smartphone Bar Mount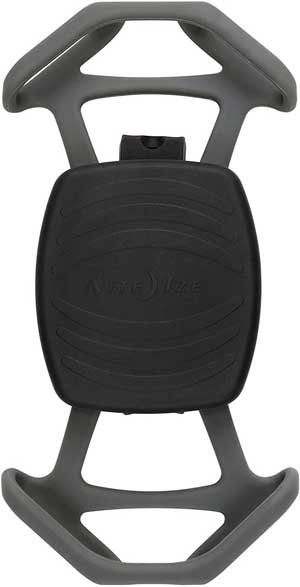 I think this tool by "Nite Ize" is one of the best iPhone bike mounts for MTB in the market. This has been providing the rider with extra-ordinary mobility of the phones they use while riding. I could easily use my handset with comfort with it.
The hard silicon made harness fits your phone perfectly within it. This mountain bike iPhone mount is very easy to install on your bike. It has got a whole new dynamic in the mobility of the handsets fitted here. It provides excellent flexibility to your phones.
"Nite Ize" promises its customers to provide a life-time warranty with its every product so the customers will have no tension if there is any defect in any product.
Material: Build with Neoprene
Best for: GPS mount
Don't Work with: iPhone 11 Pro
Key Features
The phones can be used in both portrait and landscape arrangements.
It can fit a phone both with a cover and without a cover.
An installation process without the need of any tool.
Can be used on stroller also.
3. Ailun Motorcycle Mountain Bike Phone Mount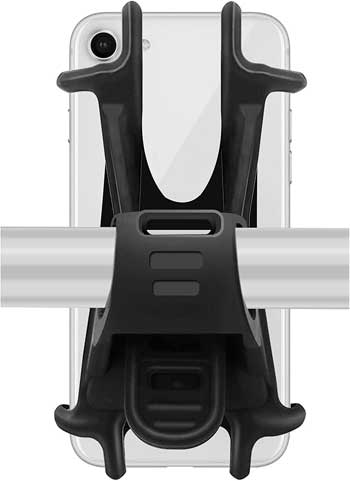 We often do run out of our budget to buy a product. Don't we? But we also don't want short-coming with the quality. This tool from "Ailun" is one of the best budget mountain bike phone holders that I think. It ensures the utmost safety while you are using a phone on your bike.
The device is easy to handle. It has also got a very easy installation as well. It has got 8 loops for adjustment so that your phone can be fitted well here.
You can wash this tool with water. It perfectly goes with your bike. If you have a low-budget, don't worry. In the question of durability it is more durable than other silicon mount.
Material: Build with Silicon
Don't use thinner case with it.
Key features
With phone it can hold a flashlight (Not big one)
This bike cell cage is shock and dirt resistant.
The tool has got no worries of slipping your smartphones.
It has got an mp3 player integrated within it.
This device has got a very easy installation and removal process.
4. WILD MAN Bike Phone Mount Bag, Cycling Waterproof Front Frame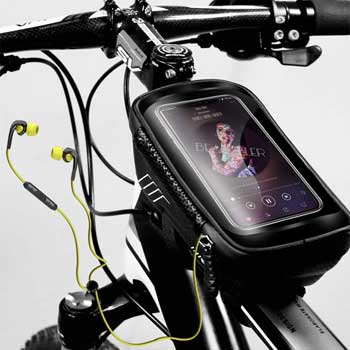 Don't you often think of keeping your headphones and charging cables inside the phone holder for your bike? You often do think of this while riding a long way. This bike cell cage from "Wild Man" is one of the best MTB waterproof bike phone mounts you will find in the market. This tool is of premium quality. I use this in the monsoon riding.
This tool can hold a charger, cables, headphones, and many other necessities within it. It is possibly the best when it comes to the safety of your smartphone while on a ride. The tool is very stylish and durable at the same time.
It has got a unique 3D design, which adds a whole new dimension to this device. This is a perfect material to have on your bike if you want to go on a long ride.
Can be used on: iPhone X XS Max XR 8 7 6s 6 plus 5s/Samsung Galaxy s8 s7 note 7
The mount is little large.
Key features
It has got a highly responsive touch screen.
The tool is made of premium-grade waterproof material.
Besides the phone, you can keep several accessories within the tool.
The Velcro straps fitted here are adjustable.
5. Quad Lock Universal Bike Mount Kit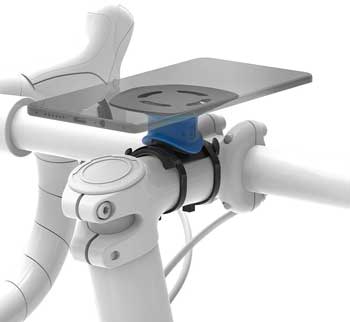 This tool from "Quad-Lock" is one of the best Universal Mountain bike Mounts. This kit is probably the most modernized tool for gripping your handsets tight on the bikes while riding.
This device always keeps your phone safe while you are on the bike. But it would be best if you did not use it with the phones having covers or cases of rubber, leather, TPU, silicon, and the ones with heavy textures.
It is a speedy functioning device and easy to use. It has got no complications of zippers or keeping your phone inside a bag or box. You should always ensure the cleanliness of the surface of the application before using it.
Key Features
It has got a dual-lock system which is patented.
The easy-going twisting and locking system enables easy access to your handsets on the move.
The product provides an alcohol wipe for your help.
The installation process is very much easy and understandable.
6. GUB Bicycle & Motorcycle Phone Mount, Aluminum Alloy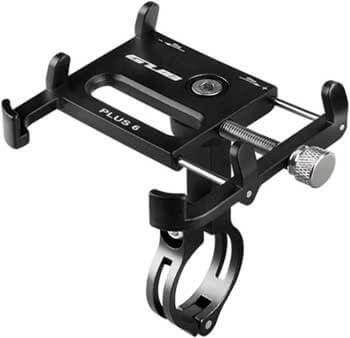 This product from "GUB" is one of the best downhill mountain bike phone mounts. This Mount is also one of the most vital tools to handle your phones on the go. The use of Aluminum alloy while building it makes it very strong and durable.
The device has got a beautiful design and finishing of it is quite well-polished. But this device is not easy to install for beginners. It has got some critical adjustments to make as well. With the help of screws, you can fix the width you want as per the phone.
This device adds a whole new dynamic while it comes to keeping your phones safe and secure on the move. It is a good buy for your bike and will be worth the money.
Material: used aluminum.
Key features
It is the first full metal mountain bike, phone holder.
The display integrated here is free of wiring.
This bike phone holder can be installed on different dimensions of handlebars.
It is compatible with most mobile phones.
7. Vibrelli Universal Motorcycle & Bike Phone Mount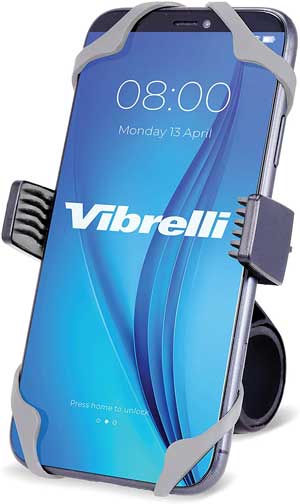 This tool from "Vibrelli" is one of the best phone mounts for dirt bikes found in the market right now. It comes with great flexibility for your smartphone on the go. It has got a beautiful, unique design, and it holds your device with proper firmness.
The finishing and surfacing of the product are of top-notch quality. This device has a streamlined look. It enables quick access over your phone while on the ride.
The device has got a life-time warranty provided by the manufacturer which makes its users worry-free. This is an absolute value for money.
Key Features
It has got a modern design which enhances the outlook of a bike.
Because of its ball and socket design, the Mount can be revolved 365 degrees, which adds to the device's mobility.
This device is very easy to install.
Backup silicon bands come as well.
Why Use a Bike Phone Mount?
It can happen sometimes that you have gone on a wild experiment with your bike and you have a meeting to attend. Then the only option left for connecting to your work is cycle computing or using a phone mount. You can keep your phone in front of you through a bike phone mount and thus do your work without tension.
Another reason for using a bike phone mount is GPS. You can find your way easily through your phone even while riding on the bike. Many cycling apps are available nowadays which you can install on your phone and enjoy an incredible journey. To enjoy such a trip, you need to choose the best mountain bike cell phone mount.
Types of Bike Phone Mounts
The types of bike phone mounts depend mainly on the type of phone. There are phone mounts for iPhone, phone mounts for android, and universal bike phone mounts.
You can guess which one is for what and already I have introduced you to some of the varieties from the name. Among these three types, the best cell phone mount for mountain bikes can be considered the universal bike phone mount because they work for any phone type.
Another division can be made based on where the Mount should be placed, on handlebars or the stem. In this category, you will find case mounts, universal brackets, and frame bags. Choose a suitable one for your bike.
How to Choose Mountain bike phone holder
Choosing a phone holder is not an easy task. You have to consider several things before selecting a mountain bike phone holder. I will show some facts that will help you in choosing the best mountain bike phone holder.
The first thing to consider that there is a matter of size and type of phone mounts. If you use a medium-sized android phone, you have to choose a phone mount that matches your phone's size.
The next thing is the overall quality. Make sure the product is highly durable and must last long.
Don't forget about the easy installation system. Choose one that is easy to install.
Dual locking system is another prominent feature. Choose one that comes with this feature.
Secure harness function is also necessary for the ultimate safety of your phone.
FAQ about Mountain bike phone mount
Where do you put your phone when mountain biking?

While you are on an MTB bike, you can put your phone in the front left pocket and if you are riding a road bike, you can put your phone in the rear jersey pocket. But the best option will be if you bought an MTB phone holder or a good mountain bike phone mount.

What is the best bike phone holder?

Several bike phone holders are considered best for experimenting with wild adventures with a bicycle. Already I have discussed the details of some best bike phone holders in the above article, and you can choose from them.

Is it easy to remove the Phone Holder?

It depends on the type of phone holder. But generally, phone holders can be easily removed from a bike. You need to pull up the locking switch if there is any, and thus without struggling, you can remove the phone holder.
Conclusion
So, the list of the best mountain bike phone mount in above to you in this article. Now match up with your phone and bicycle which one suits them best. Hopefully, you will get all the answers to your inquiries about phone mounts in the above reviews.
Now you can make a wise decision and have the best companion which will help you to remain active even when you are out of town. Types of phone mounts, why and how to use them, and all the other questions are answered in-depth. So read this entire article and choose the best one.